How to Make Money Online in 2021
There are many ways to earn using the internet. For beginners with limited cash to invest, there is a proven method, which will avoid ending up with a house full of unsold goods or spending thousands on unknown 'experts' courses. 
Your best path to success is to build online assets, slowly, one by one. If you have a job, you can do this part-time. The asset I strongly advise you to build is a blog. 
Why blogging?   For me blogging ticks more boxes than any other method. It works even if you have very little capital to invest, which is what most people find attractive. You can put in your effort at any time of day or night. During breaks at your job. After the kids are in bed, early morning before anyone else is up. weekends. If you follow my model, you'll be writing about things that interest you. So it won't seem like such a hard slog. 
Later in this article, I'll show you how I discounted other methods of making money online, no doubt you will have heard of many of them. Eventually, blogging was the really obvious winner. 
Building Online Assets
Here is the Key: Most people with a JOB exchange their time for money
By building many online Assets, that work for you 24/7, with only a minimum of management, each one contributing a stream of income,  YOU WILL STILL HAVE YOUR TIME !
Achieving this is not easy, there are many parts to master.  Lets see what you'll need.
At this time, it doesn't matter whether you have chosen to do this as a Full-time Occupation or as a Side Income, the process is just the same.
So, you are new, you have limited knowledge, limited resources especially cash and time, how can you make the best start? What is the best, quickest, and most profitable route to success in making money online?
What I found with most of my enthusiastic clients that have tried to research it, was, not a lack of knowledge, but an overload of knowledge.
When there is too much information available it creates hesitation and as any marketer will tell you, given too many options, your prospect will be unable to make a choice and you will lose the sale. 
There is also a lot of misinformation.  So many YouTube videos promoting the idea that you can do a few hours of work a week and earn thousands. It is of course rubbish. But people are desperate and will fall for these scams or at best half-truths.
What CAN you do?
Here are most of the popular methods being touted as "the way to riches", some of which might take your imagination, perhaps you may have an interest or experience in one.
You could start : 
an online shop
a review site
a membership site
a business service helping existing businesses
a  marketing agency
teaching – write a course
an SEO agency
Affiliate marketing 
CPA marketing
A blog
A YouTube Channel
But which one to choose? Each of the above has pros and cons.  Build one at a time but diversify, for example build a blog, then a shop. Then if one has a problem ( eg commissions fall ) the other will keep you afloat, while you fix the problem.
Here are some insights from one of the worlds top marketers and the experiences of two very successful bloggers. 
Now is the Best Time to Start - Ever!
Neil Patel in a Seminar on the Future of Digital Marketing showed the trend towards finding customers through blogging was very positive and expected to accelerate. 
All of these methods make money online and from anywhere in the world. No longer do you have to buy a property, buy goods, pay staff, advertise…. at enormous expense. You can even try out one of the above to see if it works, if not tear it down and start something else. If you did that in the real brick-and-mortar world, you would almost certainly go bankrupt!  Online you can easily start another business overnight. 
making it profitable though, is not so easy. 
Build a website and instant riches! No that doesn't exist, it never did. 
If you go about it the right way, in not too many months from now, you'll have some income building up. I'll tell you how I managed to make a full-time income from the internet and guide you through the pitfalls.
What Income Results are Possible?
How much can you make with a Blog or  Online Service? Here are the experiences of two successful marketers Grant Sabatier and Marissa Romero:
What Income Results are Possible?
How much can you make with a Blog or  Online Service? Here are the experiences of two successful marketers Grant Sabatier and Marissa Romero:
Grant Sabatier
Grant Sabatier is a dedicated blogger, blogging every day, his blog readership has exploded, his content can be found in Google's search engine for a LOT of blogging terms..
 

Seriously, if you keep at it and keep building, your traffic and revenue will continue to grow. In my first year blogging, I made about $25,000. In year 2 I made about $150,000 and in my 3rd year, I made over $400,000. I'm on pace (crossing my fingers) to make over $1 million in year 4 from this blog. And I'm able to write all of the posts on my laptop wherever I am. No matter what, keep at it! While it takes time to build momentum, blogging = freedom."

 
read Grants article here.
Your circumstances will obviously be different from mine, but by following the main points in this article, I'll give you a very good chance of making it to the full-time income level and beyond. One of my favorite marketers, Tony Shepherd, writing about starting an online blogging business, going part-time to full-time and how much to aim for,  said – you don't have to wait until you're making 100,000 dollars/pounds a year, just enough to replace your JOB income -which is very true. Like most of us, when he started, he did it part-time until the business took off.
Marissa Romero
Marissa tried many ways to earn online, some ending up in huge debt, before she arrived at affiliate marketing and YouTube
Of course, no one can guarantee success like Marissa and Grant. They are totally DEDICATED to their tasks and have succeeded ( maybe with some luck too ! ) by spending ALL of their time doing what's necessary. 
Many people have unrealistic goals and no plan. If you can stick to the plan I am setting out for you, put in the work and you will succeed.
Entrepreneurs tend to be single-minded, Goal driven and are able to FOCUS. In the early months of your business, growth will be slow. Having gone through the process quite a few times I can understand why so many give up. 
Plan Your Work and Measure the Results
It's a  lot easier to persist with a plan if you can see it working, so one of the most important things to incorporate into your plan is measurement.  At the very minimum, once your site, shop or agency is started you need to register it on Google Analytics, to see your visitors data and stats.  This enables you to check that you are moving forward all the time, towards your  goals.
Google Search Console is another FREE and very helpful service provided by Google,  once you are up and running, it will tell you which are your most popular pages for visitors,so you can concentrate your efforts in the right direction.
Also, Google SC will tell you whether your site has any errors on its pages and how to eliminate them.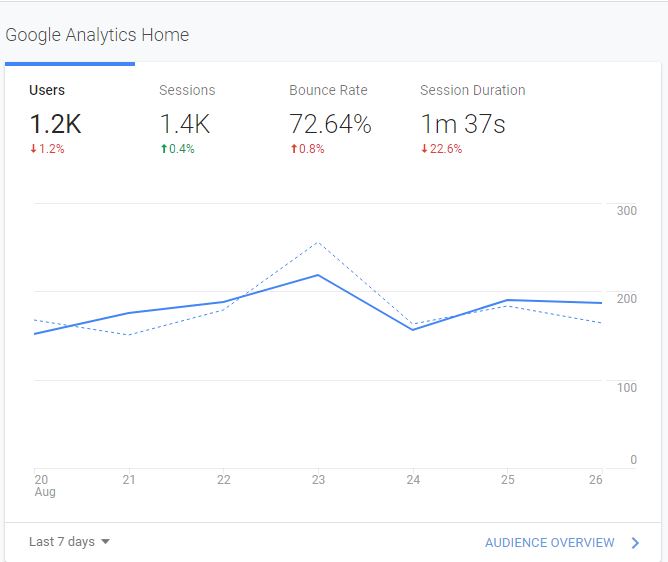 From the list of possible and popular Assets above, what are the pros and cons?  I will try to point out the pluses of each type of asset and some of the drawbacks you might face. 
The principle that drives me is NOT exchanging time for money. I don't want to create another job!  Although I put in a LOT of work to build a blog; I know it will pay me for YEARS afterward, with only a little maintenance work
Below is a basic description of each of the types of business in the list above. See which you think is your 'cup of tea', which of them appeals to you, which is a good start, you can then direct your research in that direction,  to see the major advantages and disadvantages, see if it's a good 'fit' for your skills and lifestyle.
After all, if writing is not your strongpoint, blogging wouldn't be a good choice.  If you are starting on a shoestring budget, then paid ads are not a great choice as it can take a few campaigns to get going before you see a profit.
YouTube is one of the fastest-growing platforms, YouTubers can succeed by producing a series of videos explaining or demonstrating products, services or teaching techniques that would be difficult to do any other way.
To succeed on YouTube, are you ok appearing on camera? True you could just do voiceovers or employ an actor or partner to be the figurehead "out-going guy" who would do your YouTube videos, but it's not ideal.
Not all YouTubers have a face to camera type presentation, you can actually run a channel with no person! Semi-automatic video makers like the "Invideo" app make it possible to create a video just using a script!
Shopify, WooCommerce, BigCommerce, and other Commerce Software-based sites have become very popular. You can cash in on trending products or supply ever-green niche products. Although I can see many problems with clothing sites ( the trend towards higher numbers of returned goods ) many people have succeeded with clothes and other products sourced from the far east and sold at a high profit
An Online Shop-Print on Demand
Using the very popular Tspring and Redbubble type models to quickly build online stores with amazing sales. No goods are actually printed until you make sales, you just make designs using their software and order a print when you receive orders online.
What kind of goods? Tspring of course is T-Shirts, but there are many others like Mugs, clothing – leggings are currently very popular, shoes and more.
Problems include the promotion of your goods, you can open an online store with Shopify in minutes today but how will you get visitors. Pinterest can be great for these types of goods, their audience is mainly female and clothing, decor, and household goods are big things on the Pinterest engine.
You can use the Etsy platform ( some restrictions apply ) which certainly solves the promo problem, Etsy has a huge following, but be warned about building your income on platforms other than those you OWN. Etsy can and do kick their users off, for infringing policy, so be aware!
An Online Shop - Drop Shipping and FBA
Dropshipping has been and still is a great model. You only order goods from the source after receiving your own customer's orders. Great! Guaranteed profit margins. However, China is at least 10 days away using the cheapest delivery method – Cargo shipping. So by the time they arrive and are shipped out by you, the customer has been waiting a long time, many orders may get canceled.
Plus given the recent upheaval with Covid and Human rights, do you really want to rely on Chinese imports? Goods can be sourced elsewhere and still have a good profit. 
Try to go for higher-priced goods, to maintain your margins. I would say it is far harder to achieve the growth that you could early on with Chinese sources. They are still very keen to export goods especially tech and electronics. 
Not for the beginner or inexperienced. Not one for anyone undercapitalized either.
FBA – Fulfillment By Amazon is another branch of the same tree. You order in your goods from China or elsewhere, Amazon takes care of listing the goods, selling, and distribution.  The selling is therefore asynchronous with orders, eliminating that major flaw in the dropship model.  Fine but it does need upfront cash for the goods plus you need the branding to get your goods to show up in Amazon's system. It would be no use competing with too many other similar products.
Teaching - Write a Course
If you're someone who can dash off 1000 word articles, have a knack of explaining things well, and can organize your output, then this is going to appeal to you. If not articles, then videos can also be used as a medium to teach.
Once you've written/recorded your course, it can be available 24/7. But how will you sell it. You initially have no reputation, no past record of success. You could certainly put it up on your own site. But then you have the problem of promotion.
Social media can help here, Pinterest, is great to send visitors to your site. Facebook Groups can be utilized, although free traffic from FB is notoriously poor. They would much rather you used Facebook Ads. which can be expensive.
The most popular method is to use one of the many course brokers, like
Coursera
Udemy
Skillshare
Thinkific
Teachable
If you're good at this, you can fairly quickly build up a good number of courses, which are all able to contribute to this very lucrative stream of income.
If you want to add to your credentials, which is attractive to your potential students, there are often courses you can take that lead to certification, for example, Microsoft runs many free programming courses with certification on completion. 
Take a subject you know, find the best 10 selling items in that category and review them all in detail – good points and bad. 
Review physical goods. 
Review information products
Send the visitor to a vendor such as Amazon, to purchase and collect the commission.
This is the method I started with many years ago, it still works today, though not quite as well.  Amazon is still king of shopping sites almost everyone has an Amazon account, buyer resistance is low usually needing one click to buy.
Google has become much more intelligent in the last few years and if a user types in " what is the best rough terrain bike?" it will most probably direct them to a shopping site where actual buyers of the product give their reviews. 
So to give yourself a much better chance, do not simply copy out all the specifications, prices and hope you get visitors – write about your experience riding the bike, what did you like, what went wrong? Tell the whole story. Use your own pictures and video if possible.
Amazon's success is in some part due to the ease at which affiliates ( Amazon refer to us as "associates")  can promote products on its platform. Once you have an account, simply browse to the goods, copy and paste the code in the Associate's Bar onto your site and voilà, you have an official link, with the correct price, served up by AWS.
The main drawback if you rely totally on reviews, from Amazon, is that the commission rates as of 2020 are lower than ever, some dipping from 8% to 3%, so without a huge site, or perhaps one which does both Affiliate AND Adsense, it is difficult to make much of an income.
I think we can all think of a local business that isn't doing too well.
All businesses need customers. 
Looking through the local paper the other day, I saw a bad review of a hairdresser business, just a couple of streets away from me. Prime case for some online help. They had no actual website, just the usual Yellow Pages and Thomson Ads online.
With our web skills, we can put together a special webpage offering the services that, that particular business is involved in. Run ads to it and send the leads to that business.. Confirm that they are receiving the new clients then if the business wants to continue getting the leads each day – you can offer them a monthly deal.  And/Or build them a great website.
A Marketing or SEO Agency
The services offered by your business services enterprise – building website, running ads, social media posts, can be expanded until you're running a full Marketing Agency
Many such Agencies deal with SEO – search engine optimization, which on its own will boost the number of visitors to a website very significantly.
Also running social media for a  company. Not many businesses especially small ones have the time to do this well. It can make a huge difference to the bottom line, having that branding and presence online.
For me, this would be a bit too much like a JOB though. Plus you will soon need staff to do the work, although some can be outsourced using 
People per hour
Fiverr
Upwork
Freelancer
20four7VA
But remember you'll now have to oversee hiring people remotely. Cheaper than in person for sure, but still significant work.
This is one of my go-to money makers. You can use paid or free promotion methods.
As just a promoter, you have non of the hassle of customer services, importing goods, packaging, returns, staff, wages, security…. just write your landing pages, run ads to them promoting the goods, and collect the commissions. Find thousands of offers to promote on Offervault, Amazon, Clickbank….etc
Once set up all these promo pages run on automatic, you can multiply your income with multiple pages and sites. If you choose well, with evergreen products, your stream of income will go on and on, completely hands-off.  An example of longevity is "Piano for All" a Clickbank piano teaching course, which has been on offer since 2006 !
One huge advantage is how easy it is with Clickfunnels or Elementor, to build your landing pages. Good sales can be monitored in one place with tracking software like Voluum
An example of free marketing with articles rather than Ads is my own satellite website. I build pages to explain each of the satellite receivers' functions, how to purchase the subscription cards, the type of satellite dish required, the channels they will receive, arrange the installation if required, and finally offer a recording drive from Amazon or our local electronics store Currys.
The drive will simply be added as an affiliate product. Uploading the code is dead simple using Amazon's own servers – so the price and images are always correct. It takes minutes to do and makes sales 24/7.
Very similar to Affiliate model marketing but with a lower barrier to success, since with CPA (cost per action) you only have to get a response, you don't have to SELL anything. 
Usually, all an advertiser wants is a lead, so you could be collecting an email for example. Although the payout is tiny, there are thousands of CPA offers and it would typically take only an hour to study the offer and put up a promo page.
One variation is software downloads. Frequently CPA offers involve getting your prospect to download something, to be paid out. I had good success early on with a diet menu toolbar. This paid $6 for every download. The toolbar gave the prospect a range of menus for their particular diet.   
I had a diet website at the time and simply offered the toolbar as a freebie along with an eBook. The eBook described another diet product and had many affiliate links in it.
The only downside to this method is how long the offers last. Some are just a few weeks or months, so it can take a bit more work in maintenance.
Blogging - so many Possibilities
Blogging is my favorite and the easiest (and most anonymous for those who like to be out of the limelight ) way to earn. 
It is the closest to the passive income model ( Not exchanging time for money ) 
You have no Boss
Virtually no upfront costs
No set working hours
No Limit to earnings
Your blog earns mainly Passive Income
… so over a period of time you can build many Blog- Assets
There must be an infinite number of possible niches or groups of niches available and a LOT of ways to monetize them. 
There are 4 main ways to monetize, that bloggers in 2021 are using.
Ads
Affiliate Promos
Courses
List Building
Secrets to Earning with a Blog
There aren't many bloggers or Tutors willing to share their earnings, but figures from Jon Dykstra and Morten Storgaard who do publish some of this information, show what can be done with hard work over several years.
They both rely heavily on the Ad model for income from their blogs ie selling space on their sites for Advertisers to use. This is automatically ( or manually ) set up and does not require constant maintenance. Morten also uses affiliate product sales on his blogs, Jon, much less.
Their income reports tell the story quite well:  if you can build your blog to the 100 to 200 page size, you should be attracting around 100,000 page views per month. 
If your site has a mainly American audience, then the biggest group of Advertisers will want to work with you. 
With 100k pageviews you can approach many Ad agencies like Mediavine, or AdThrive and be accepted easily. Some like Ezoic and Google Adsense have a much lower pageview threshold to accept applications. 
The income from Ads can be significant, in the region of $10k a month is quite attainable. If you add affiliate commissions for your promotions the total can be huge. 
If you are working alone then yes, writing 100 articles for your blog is a big task, but breaking it down into daily grind, 50 to 100 should be attainable within a year. That is only one article every 3 days.
For anyone who has completed a degree or anyone in journalism, writing should not pose any problem, you will have a level of writing competence and your own ways of planning articles. This is an ideal background for a blogger, however, there are some simple methods that everyone can follow to make the task less of a grind. In my online course, I will be showing you ways to crank out up to four 1500 word articles in a single day!
Most established bloggers however don't do all the work themselves. Outsourcing writing to others, paid for by Ad revenue is the way to go. If you find a good writer or team of writers you can rely on, it can mean a huge boost in income or a big expansion for the site.
Reinvesting money earned is essential for speedy growth. Your tasks then become more of an editor and organizer. 
Finally with your expertise in the Niche, consider writing courses, teaching your subject through Teachable, Udemy, or Coursera. Again, once you have one or more of these completed it is self-running – another independent stream of income
Whichever method you choose to make your online fortune, don't fall into the mistake of building your assets on properties you don't own. 
What do I mean?
If your  Marketing effort is on a blog. Host that blog on your own server for example Hostgator. DO NOT use Wix, Weebly, WordPress free site, Google sites or any other free site provider. You can be shut down, for any infringement, and lose everything, as you don't OWN those sites
Avoid Losing your Work
For another example, Facebook is notorious for shutting down pages and groups and ad accounts for minor infringements of its rules. When this happens its extremely tough to reverse any bans it imposes. 
Suppose you had just spent 4 or 5 months building up a Facebook ad account that was converting well. Such an asset is worth a lot and will have cost a lot to set up and fine-tune into a money-making venture. Now FB comes along and shuts it down, you might have overlooked some new ad policy. Overnight your income drops to zero! Extremely bad news.
So always apply the old adage about eggs and baskets. Split your ads into Facebook and Google ads. OR Split the campaign into two or more ad accounts. Many marketers using FB actually have a test account that their ads will initially go into, like a sandbox. Then having been accepted, they can migrate into the main account without the fear that it will be shut down. 
Take Backups Frequently
There is no excuse for not doing this, there are many back-ups and restore plugins, many are free, one of the biggest is UpDraft. Free to use, on multiple sites, automatically backs up your WordPress site database, your content, and even plugins and other site materials.
This is an absolute life-saver if your server goes down. Restoring is very simple. Without it, well as you can imagine, you'd have to rewrite all your website pages. Very Bad News and again for a successful site this could mean zero income until it's done. 
The last of the 4 ways of earning from your blog is List Building. By collecting your customer's email address, you can build the most valuable asset possible in the online world….. An email list
Lists are an ideal addition to the Blogging business model, it is very easy to put up a Squeeze Page where readers can opt-in to receive your newsletter / offers / course
Many marketers offer this advice and it's true, most of the cost of doing business is in the initial acquisition of that customer. Once you have a regular reader or a satisfied customer that has bought from you, they are 5 to 10 times more likely to buy from you again, than a new prospect visiting your website. It costs zero for you to send out your latest product details, your new course, or the latest gadget news. 
A subscriber in your list is ( by most marketers estimations ) reckoned to be worth at least $1 per month
A customer list is the nearest thing to a magic button for making money.  If you have for example 5000 people on your list that know you or have bought from you, you can send out a "broadcast" email about your latest software or course at $50 and could potentially sell to say 10% of your list. That's an instant 500 X $50 = $25000 ! Magic.